EQUI is an innovative project that promises to be solid and develop in an expansive way, based on block chain technology, EQUI relies on the cryptographic market and how the fusion of this with traditional companies can be a great combination. because the cryptocurrencies are called '' the currencies of the future '' where they will replace the physical currencies (Tangible) Or at least they will take a more imposing role in commerce, this project has a lot of experience in the cryptographic and business field, also with development capital and has firm ideals about a crypto-future not so distant.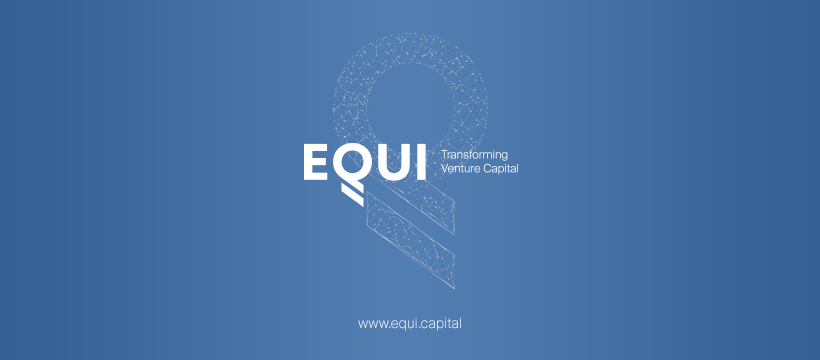 This is a main introduction about this project, uploaded from the official channel of EQUI on YouTube, explained by founder Doug Barrowman.

EQUI comes to revolutionize companies, in addition to promoting the development and expansion of them, it is a decentralized platform that offers many new possibilities in the business world, for small and large entrepreneurs, investors of all kinds. EQUI intends to bring everyone together in one place, where we all have development possibilities, so each investor who owns the EQUI cryptocurrency decides which project to be part of and also receives a 70% profit percentage.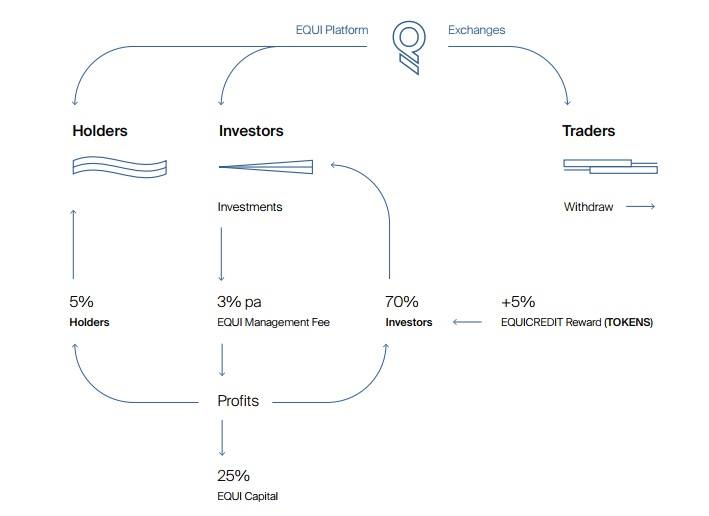 Generally, other projects also based on chain block technology, usually pay their investors only 20% to 50% of profits, so this is one of the greatest advantages of EQUI, as well as being able to choose exactly where We decided to invest our capital in the emerging project that is our preference, at the same time offering those companies more possibilities of evolution. The EQUI Team is formed by trained professionals, with a breadth of experience in risk investment, where each one makes his decisions with a large number of available options in which to invest in risk capital, it can be a win for all, EQUI It proposes to win in large quantities, while promoting the growth of new companies and those that have been in the market for a long time, investing and believing in the value of this promising project will give us many profits tomorrow.
The EQUI team consists mainly of:
-Doug Barrowman, Founder Founder
-Mayfair Baroness Mona, OBE, co-founders
-Tim Eve, Investment Director
-Mark Lyons, Director of Investments
-Lucas Webster, director of investments and compliance
-Andrew Barrowman, Director of Investments
-Andrei Karpushonak, Head of Development of
-Nerys Roberts, marketing director
-Nicholas Graham, Customer Service Head of Department
-Sim Singh-Landa, Project Director
-Anthony Page, Manager
-Mark Pearson
-Morten Tonneson
EQUI's proven risk financing portfolio makes this project a good option to consider in the long term, and not a short-term investment. The combination of traditional venture capital and blockchain technology in emerging companies are part of the EQUI project, the revolution of the cryptographic market and the futuristic vision full of possibilities, opening the doors of development to companies around the world and those investors looking for new projects.
Information about the ICO of EQUI
A total of 250 million of the EQUI cryptocurrency will be issued in the ICO period, which are valued at $ 0.50 USD each EQUI. Large investors with large available capital (minimum amount of $ 100k) can join the pre-sale that takes place from March 1 to 8, 2018 and will receive a bonus of 25% of their obtained tokens for their investment. The main public ICO does not have any minimum investment standard for its buyers (only $ 100), and it will start from March 8 to March 31, 2018. The public ICO will have the benefit of a 15% profit in EQUI, for those who start at invest in the first week.
Distribution of EQUI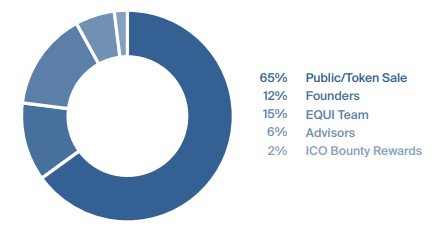 65% of all the tokens are destined for sale, the remaining percentage is divided into 12% for the founders, 15% for the EQUI team, 6% for all the advisors and the last 2% will be for the distribution of the reward campaign. 75% of all profits are returned to the investors and the remaining 25% goes to the EQUI team, so that everyone's interests are covered in the long term.
For more information or if you want to be part of this new project, I invite you to visit the following links of interest:
Whitepaper: https://www.equi.capital/whitepaper/EQUI_Whitepaper_050218.pdf
ANN Thread: https://bitcointalk.org/index.php?topic=2888110.new#new
YouTube: https://www.youtube.com/channel/UCroAksegMhfQpwQEudz8uQA
Telegram: https://t.me/equicapital
My profile Bitcointalk: https://bitcointalk.org/index.php?action=profile;u=1759965
My Etherwallet: 0xd812b2d49d6951D072d688a685Bac2D5cF20c0dB